USEEIO Modeling Tool
Georgia communities are using USEEIO to evaluate how technological changes in local industries, utilities and logistics can reduce our carbon footprint and protect the environment while creating jobs and new business opportunities.
Get Involved
.
The U.S.'s Environmentally Extended IO Model
The US Environmentally Extended Input-Output Model (USEEIO) is a national life cycle model that combines environmental and economic data to characterize both positive and negative effects associated with the production and consumption of goods and services in the United States. It tracks close to 400 commodities and over 2000 resources, emissions, and waste types to characterize 20+ environmental and economic indicators. USEEIO is widely used by corporations, including Amazon, nonprofits, government and academia for applications such as carbon footprinting and sector-based environmental assessment.​
The EPA, GA Department of Economic Development, and Georgia Tech are working with Georgia communities interested in using the model to evaluate economic and environmental outcomes through web applications that specifically address community concerns by combing a Georgia version of the USEEIO model with local data to add detail to the evaluation.​
Using the Georgia version of the USEEIO model, teams will investigate linkages between material data and the regionalized IO model using information gathered on: (1) industries or final uses that are generating the materials, (2) how the materials currently are used, disposed or handled, (3) possible uses of the material to substitute for current industry material or energy requirements, (4) other technological and environmental changes related to material use and substitution, and (5) the market consequences of scaling up material cycling changes.​
The resulting regional material flow analysis will include characterization of local material streams in both quantity and quality using data from local stakeholders. The regional focus provides an opportunity to add detail to the national model for the unique needs of local project planning and economic development.
Project Goals
- To foster informed environmental and economic decisions.
- To turn waste streams into sustainable revenue streams.
- To lower the cost of material input throughout production.
- To help communities reduce their carbon footprint.
- To explore options and showcase current assets.
- To anticipate where technology demands are headed.
- To provide tools for attracting new local industries.
- To create beautiful, healthy, equitable environments.

Participation Requirements for GA Communities
- The EPA is working with communities to build applications using the USSEIO model
- Communities must be interested in economic development and sustainability
- Communities will provide data and agree on information needs to be met
- Communities work with project intern
- Communities must express a desire in using the tool to inform decision making

Our Team's Commitment
- We will leverage our time, expertise and resources to make this model useful to you
- Educate you on what is possible with the model and your data
- Provide a team of interns to build core functionality and collect local data
- Host a volunteer application development event to build the application
- Hand over the application to your community and provide training
- Provide an educational module for your schools
- All partners will highlight your community project in national communications
Timeline
- Winter 2019/2020 - Community on boarding
- Spring 2020 - Team and community planning
- Summer 2020 - Component development (interns)
- Fall 2020 - Application development
- Winter 2020 and Spring 2021 - Education and use

USEEIO - Ongoing activities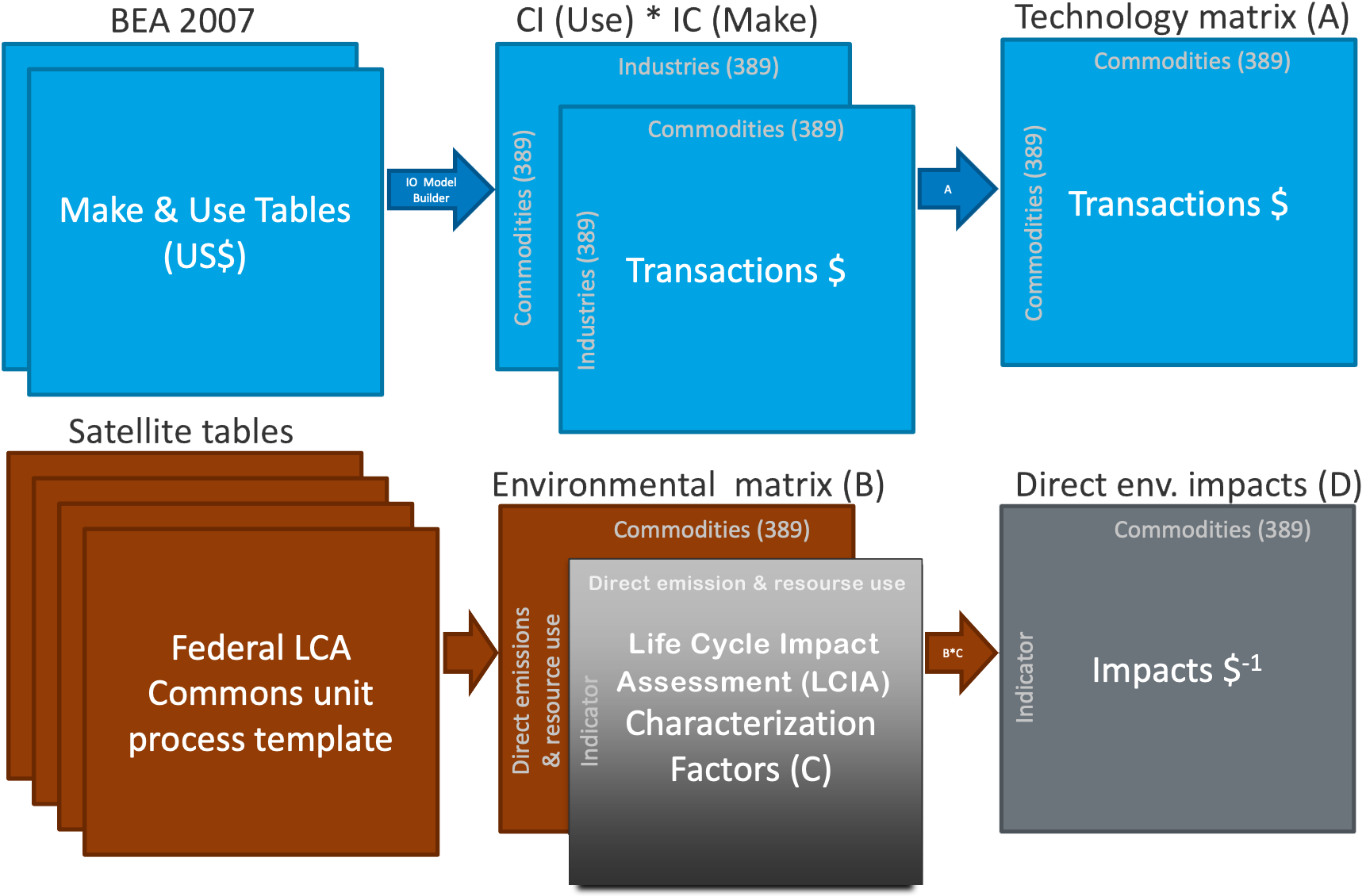 - Updating national model
- Refining and updating the GA model
- Research within EPA's
Sustainable and Healthy Communities 2019-2022 Research Program
New Uses of USEEIO for this Application
- Integrate with local data
- Scenario analysis - technology assessment
- Material recovery and its impacts
- Similar to EPA's model for
Recycling Economic Impact assessment